Anthony Hutchison, ACNP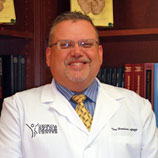 Tony has been practicing as a registered nurse since 1998. After serving in the U.S. Navy, he graduated from Wallace Community College in Dothan AL as a Registered Nurse.  He spent 1.5 years working a nurse manager in Med/Surg-Oncology and then transferred to cardiovascular intensive care where he spent 2 years caring for critically ill patients recovering from open-heart surgery.
In 2002 he transferred to surgery and became proficient in a variety of surgical specialties including Neurosurgery, CV Surgery, Plastic and Reconstructive surgery, General and General Vascular surgery. During this period he specialized as a Registered Nurse First Assistant. In 2006 Tony graduated from the University of South Alabama with a Master's Degree in nursing in the field of acute care and adult nurse practitioner.
Tony currently holds certifications in advance practice as an Acute Care Nurse Practitioner and Registered Nurse First Assistant (RNFA). He has taught clinical skills at the School of Nursing at Wallace College in Dothan, AL and is currently adjunct faculty at the University of Alabama at Birmingham's combined Acute Care Nurse Practitioner/RNFA program.  Tony also serves as a preceptor for the Mercer University Physician Assistant program.
Tony has worked primarily as a surgical first assistant since 2005 and since 2007 he has served as an advanced practitioner in the field of neurosurgery.
He is a member of the American Academy of Nurse practitioners, The Society of Lateral Access Surgeons (associate member), Congress of Neurosurgeons (associate member), North American Spine Society(associate member), United Advance Practice Nurses of Georgia Atlanta Chapter and served as treasurer for the Peachtree Chapter of American Association of Neuroscience Nurses.
In his spare time Tony enjoys scuba diving, a good round of golf and cooking for his family.