For New Patients
HIPPA-Patient Rights & Responsibilities-Patnership for Safety
Welcome to Georgia Spine & Neurosurgery Center.  Our main office is conveniently located in Atlanta, on the campus of Northside Hospital Atlanta.
980 Johnson Ferry Rd, Suite 490, Atlanta, GA 30342
The office phone number is (404) 254-3160 or (404) 299-3338.
---
Policies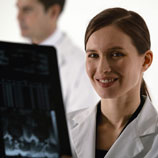 We are committed to meeting your health care needs. Our goal is to keep your insurance or other financial arrangements as simple as possible. In order to accomplish this cost-effective manner, we ask that you adhere to the following guidelines:
Payment, including insurance co-payment, is expected at time of service.
We will file your insurance for you if we are a participating provider of your plan. You will be responsible for any and all services in excess of your insurance limits as well as all non-covered services.
If we are not participating providers of your plan, full payment is due at the time of service, unless prior arrangements have been made. We will give you complete forms that will be accepted by your insurance company for reimbursement.
We will mail you a monthly billing statement for any outstanding balances.
---
What To Bring
First Visit Information
For your first visit you will need the following:
All x-ray, MRI, CT or other films and reports you may have relating to your visit
Please make sure you bring the actual films (CD's), as your providers will need them to review your films personally.
Any recent lab work.
All of the medications you are taking at this time.
Your insurance card and co-pay.
Your referral from your primary care physician, if needed.
or give us a call
Our office phone number is (404) 780-7811 or (404) 299-3338
Our fax number is (404) 299-3315
---
Insurance
Edit

| Plan Name | Accepting New Patients |
| --- | --- |
| Aetna US Healthcare | Yes |
| Coventry Healthcare | Yes |
| PHCS | Yes |
| Promina Employee's Plan | Yes |
| Tricare | Yes |
| Medicare | Yes |
| Southcare | Yes |
| United Healthcare | Yes |
| State Health Plan | Yes |
| MRN | Yes |
| Beech Street | Yes |
| Cigna | Yes |
| Humana | Yes |
| Blue Cross/ Blue Shield PPO | Yes |
| Companion Workplace Health | Yes |
| Evolutions Healthcare | Yes |
| First Health/CCN | Yes |
| Galaxy Health Network | Yes |
| One Health Plan | Yes |
| Preferred Plan of Georgia | Yes |